Just when you thought it was gone for good, this rogue steroid supplier resurfaces. Meet Pharmaeurope, a well-known scam site that was in business for several years before going underground for a while. Although the store sells other drugs, their main supply is bodybuilding supplements which they claim are FDA approved and of high-quality. However, that's a bait to lure you to transact with them after which you should consider lucky to receive your goods.
Below is what we know about this bogus company.

We were not able to verify the reputation the manufacturer of this Anapolon
Negative Customer Reviews
Any serious online steroid buyer will tell you that consulting members of various bodybuilding social platforms is one of the most effective ways of knowing more about a particular online shop. Indeed, that's how we learned about Pharmaeurope. When doing so, the one thing that really caught our attention most was the extremely high number of negative reviews by a majority of its past customers.
While a few ranted over receiving poor quality products, most were frustrated by the weeks they had to wait before some finally gave up on the order ever arriving. We successfully figured out how the Pharmaeurope decoy works.
From the onlook, this site looks harmless with a relatively modern interface. Besides, every shopping stage is pretty flawless especially when purchasing goods worth $100 or less.
However, its true colors begin to emerge immediately you make your payment worth $100 or more. Naturally, most consumers will be patient enough to wait for the 10-14 days stipulated as the estimated delivery time to elapse. Since there isn't a good tracking system on this site, most end up growing they'll grow impatient and resort to contacting the customer support. They'll probably send an email after which they receive a canned response telling them that there was a shipping mix-up and thus it might take a bit longer to receive the goods. Two months later, goods are yet to arrive. And the worst part? Pharmaeurope won't bother to communicate to you regarding your package ever again. It's only after several weeks or months that you'll come to realize that you got swindled.
Logically, from the domain name, you'd think that this company is European based. And well, its owners are smart enough to host its website servers in the continent. This move helps to cheat various site scanners from flagging the site as rogue based on its location. For example, Scamvoid, a trusted website that helps in determining a site's trustworthiness, is entirely convinced of the website's legitimacy and thus declares it safe. Our research, however, unveils the U.S. as the actual residence of Pharmaeurope owners. Now the truth is, this location spoofing mind games play such a crucial role in luring hundreds of bodybuilders into purchasing from such sites only to end up getting scammed. Worse, redress is almost impossible due to jurisdiction limitations.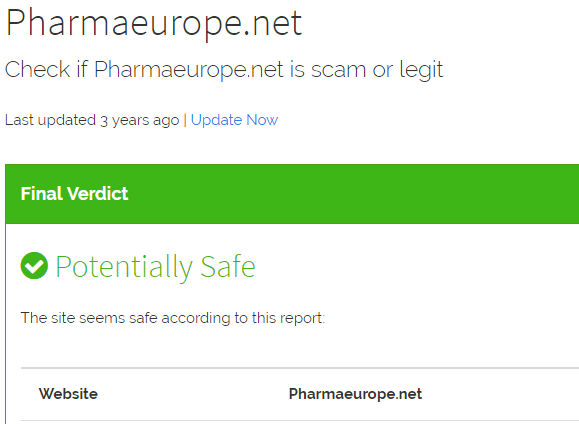 scamvoid.net is already convinced that Pharmaeurope.net is a safe site
As you can possibly tell at this point, Pharmaeurope is not an ideal steroid store to purchase Anapolon or any other bodybuilding supplement for that matter. The extremely high number of negative reviews coupled with the spoofed website location are enough reasons to raise eyebrows regarding its legitimacy. So, just stay away from such suspect online stores and instead get your supplies from other verifiable ones such as Atlasroids, Super Steroid, or  2GetMass.
OUR RATINGS
Account creation, ergonomy and ordering process -

Prices and products -

Customer service -

Cycle and Products advice -

Methods of payment and methods of delivery -

We made a real order, and the verdict is... -
Summary
Pharmaeurope is a well-known scam site that claims to sell high-quality steroids and other bodybuilding products. Check out our review to learn how they swindle customers and why you shouldn't purchase Anapolon or any other supplement from them.
Comments Rating
( reviews)